Lettuce cucumber tomato salad is bright, crunchy, and fresh. Fresh garden veggies are tossed in a light dressing to create this simple, yet flavorful dish goes well with any meal.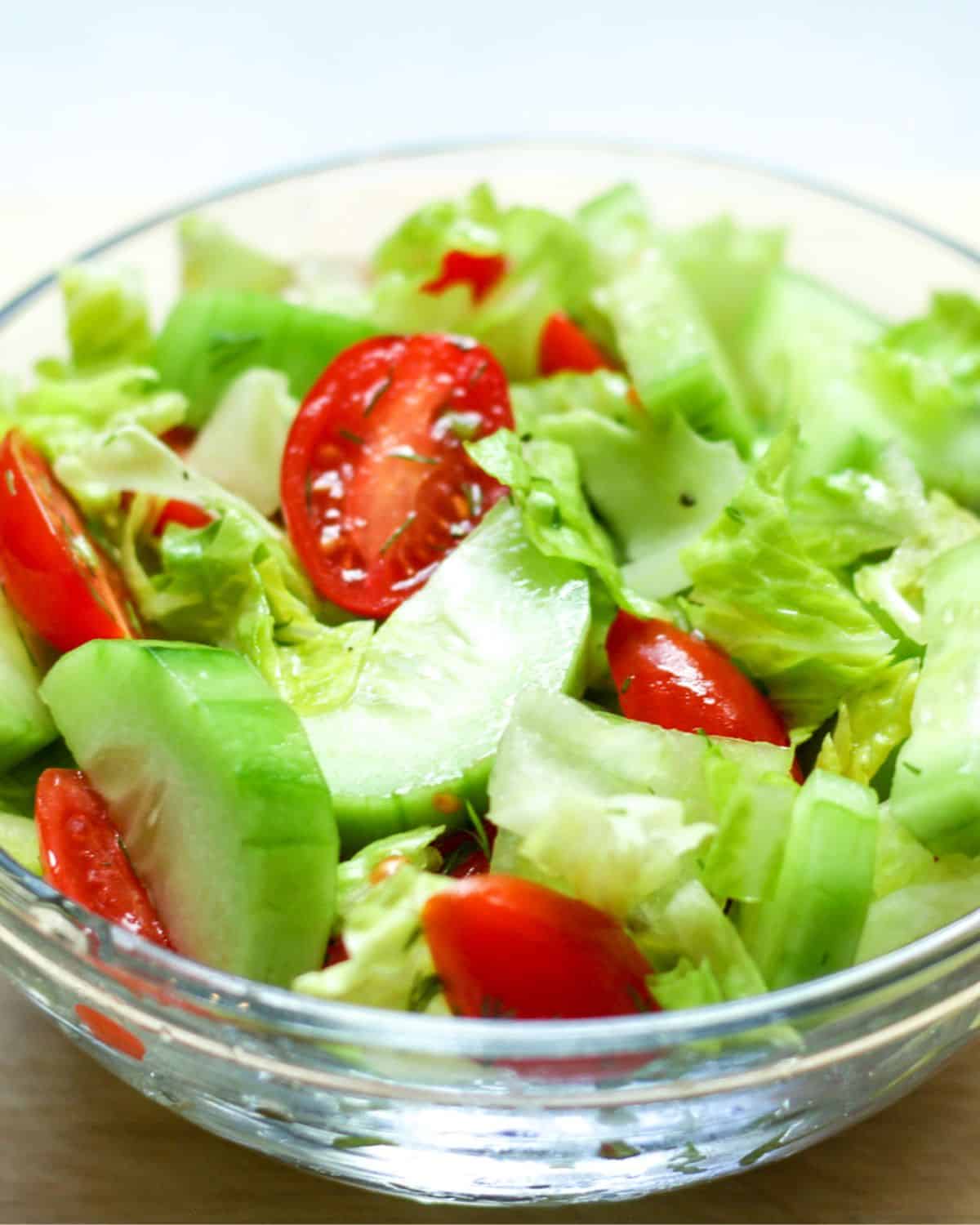 Jump to:
Simple lettuce cucumber tomato salad recipe
When spring comes, there is nothing better than fresh full-of-flavor vegetables.
Salads are my favorite way to include more raw vegetables in our diet. Great source of fiber, vitamins, and antioxidants.
You may also like:
This simple salad is probably one of the first salads I learned to make as a kid. I remember browsing in my grandma's garden to pick the vegetables for my salad. There was always green lettuce, tomatoes, cucumbers, and fresh dill. Sometimes, I would also add bell peppers, parsley, and onions.
The dressing was also super simple – a cold pressed sunflower oil (very common in Ukraine). It had so much flavor.
Living in the USA, I still dress this salad simply with good-quality olive oil. You can also try it with walnut oil, sesame oil, or pumpkin seed oil.
And, I almost forgot about the best part about this salad – once the plate is empty, dip the piece of fresh bread in the leftover dressing that has been mixed with all the vegetable juices.
Ingredients overview
Please, see the ingredients quantities in the recipe card at the end of this post.
Lettuce: today, I am using romaine lettuce. But any green leaf lettuce or salad mix works great: Boston, butter, iceberg spring mix, or baby spinach.
Tomatoes: the key is to use sweet, flavorful tomatoes. In summer, I pick heirloom tomatoes as they are the sweetest and have a complex flavor. Off-season, I prefer using cherry tomatoes, specifically "Sunset Sugar Bomb Tomatoes". They are the best tomatoes you can find in winter.
Cucumbers: same as with tomatoes, cucumbers have more flavor when in season. In summer, I choose English, Persian, or even pickling cucumbers. In winter, I go with organic English or slicing cucumbers.
Dill: you do not have to use it at all. But I love how dill enhances the overall flavor of the salad, bringing a bright and fresh aroma. You can also add some fresh parsley.
Olive oil: if you have good quality extra virgin olive oil, this salad will not need anything else. Unless you are looking for a more tangy taste, add half a teaspoon of rice vinegar, lemon juice, or apple cider vinegar.
Salt and pepper: add salt and pepper by taste.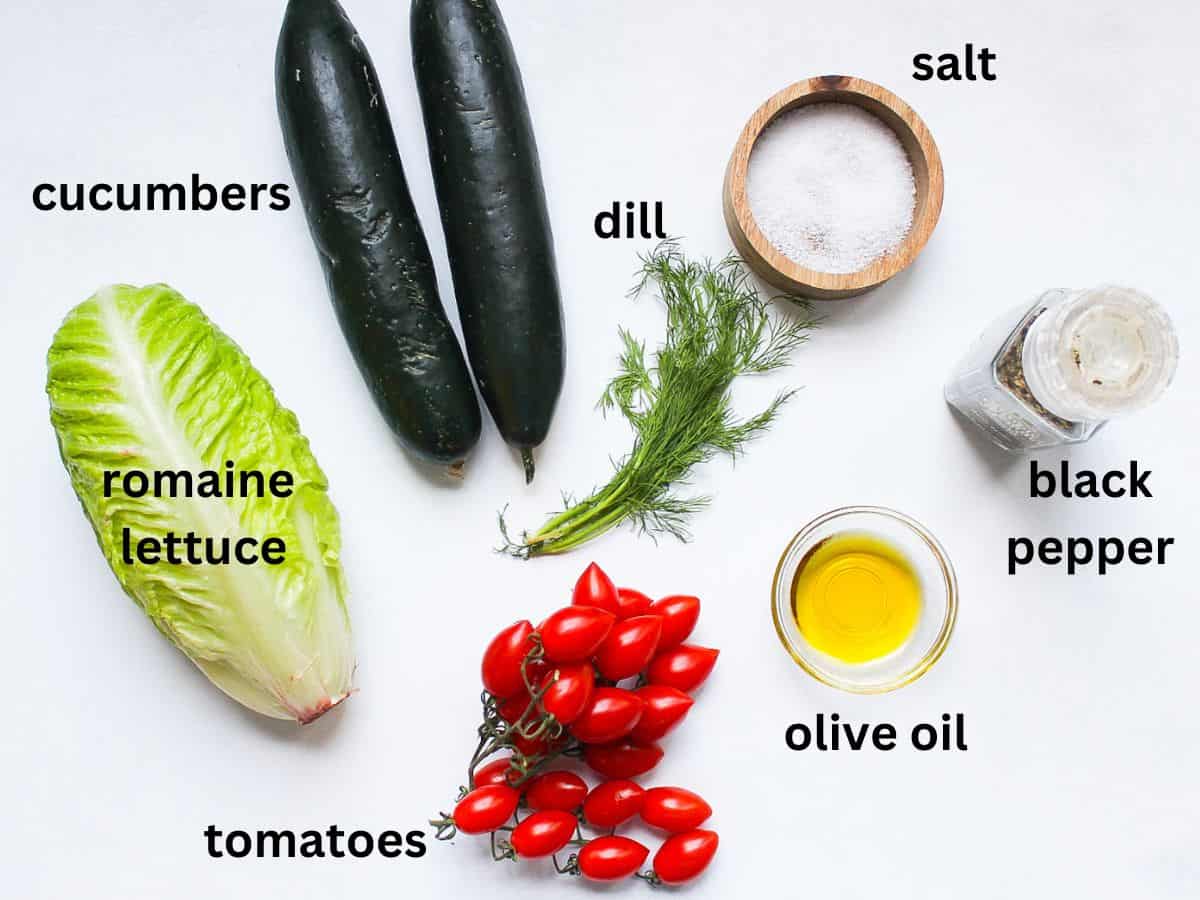 How to make lettuce salad with tomato and cucumber
Step 1. Start with rinsing cucumbers, tomatoes, and lettuce. If you have a salad spinner, use it to wash lettuce after chopping it in. Otherwise, you can rinse separate leaves under cold water and pat them dry with some paper towel with the rest of the vegetables.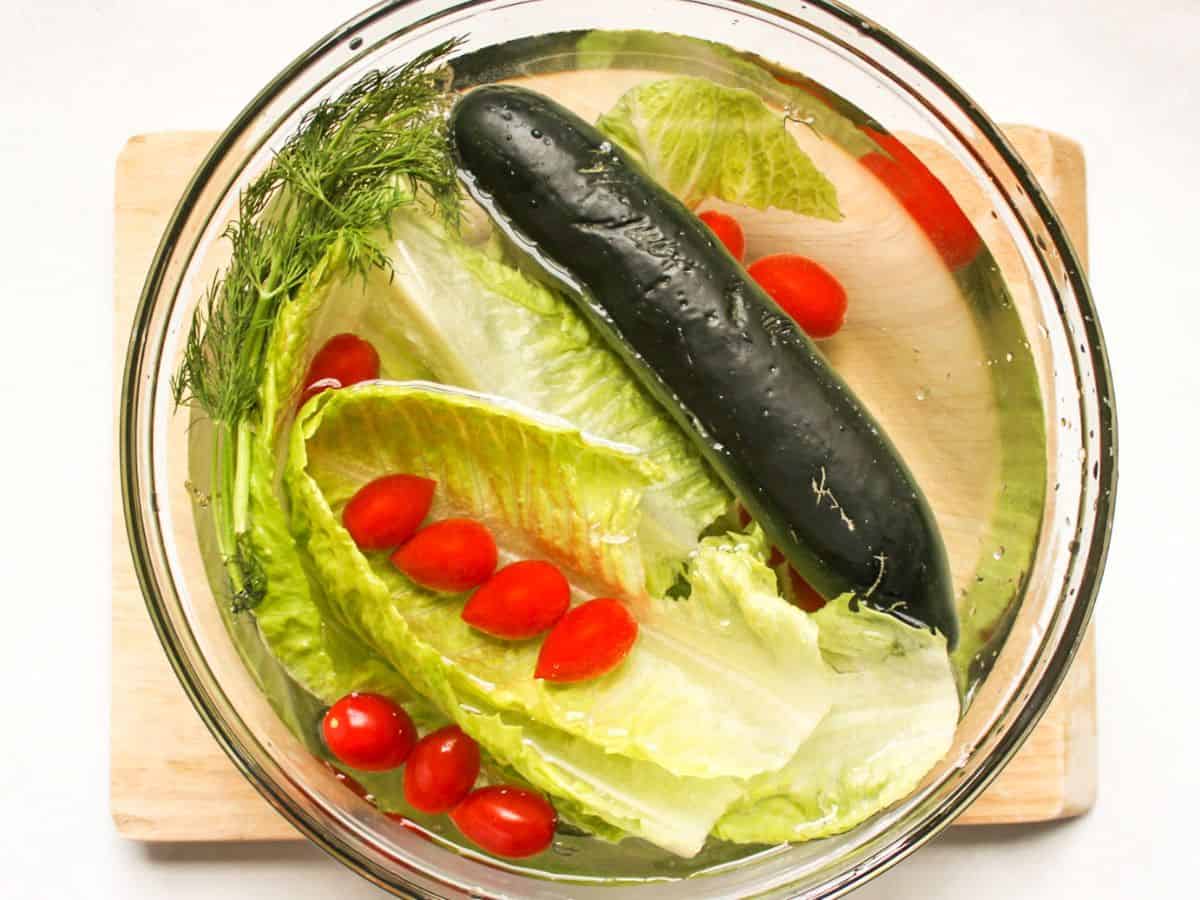 Step 2. Today, I have a large slicing cucumber. Most slicing cucumbers (especially off-season) have a layer of wax to preserve freshness unless it's coming from the farmer's market. That's why I am going to peel the skin off using my veggie peeler. Otherwise, the cucumber skin is edible and nutritious. Slice the cucumber in half lengthwise. Cut each half into half circles.
Note: If you are using Persian (smaller in diameter cucumbers with soft skin), slice them into rounds
Step 3. Slice each cherry tomato in half. If you have large tomatoes, cut them into bite-sized chunks. Now, chop the lettuce and dill. Place all chopped vegetables into the bowl.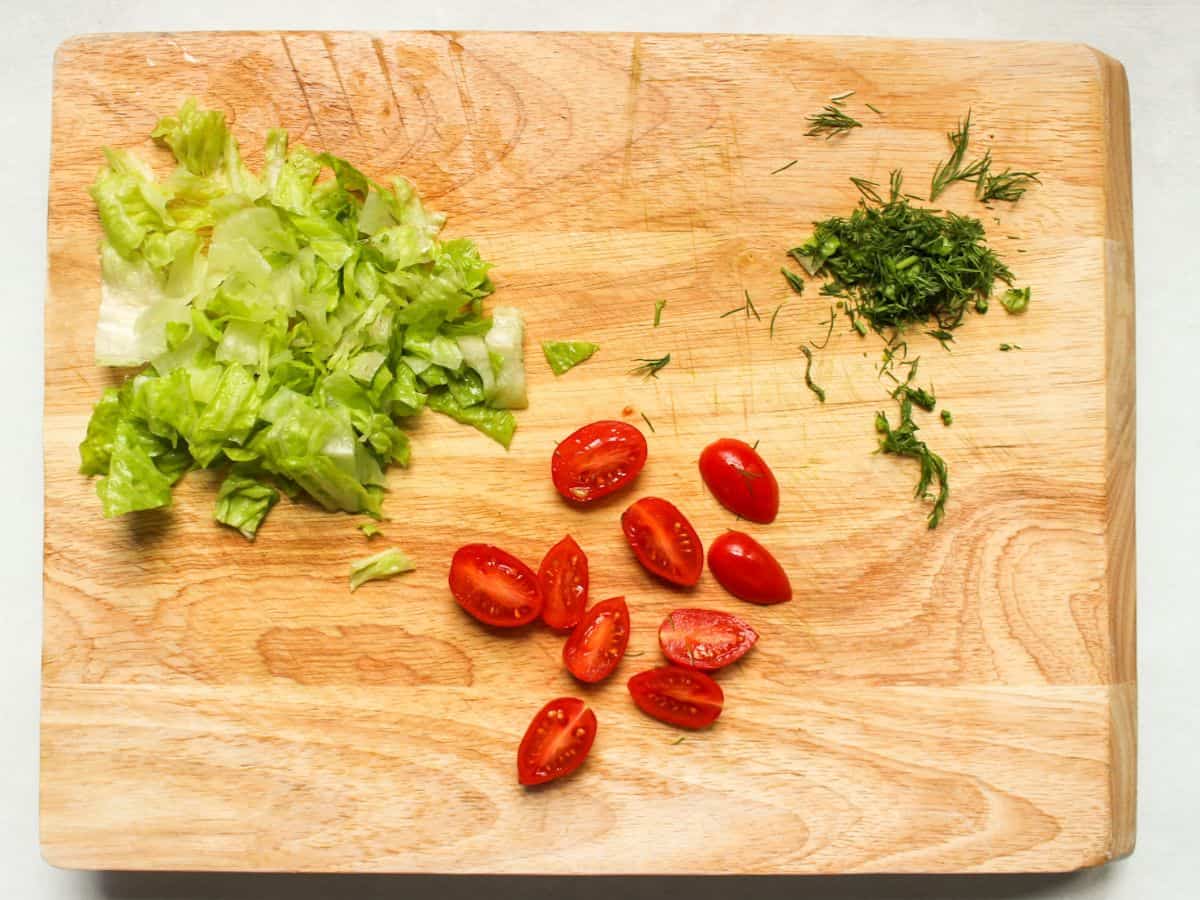 Step 4. Add a few pinches of oil and freshly ground black pepper. Drizzle the salad with extra virgin olive oil and gently mix it. You can chill the salad or enjoy it right away.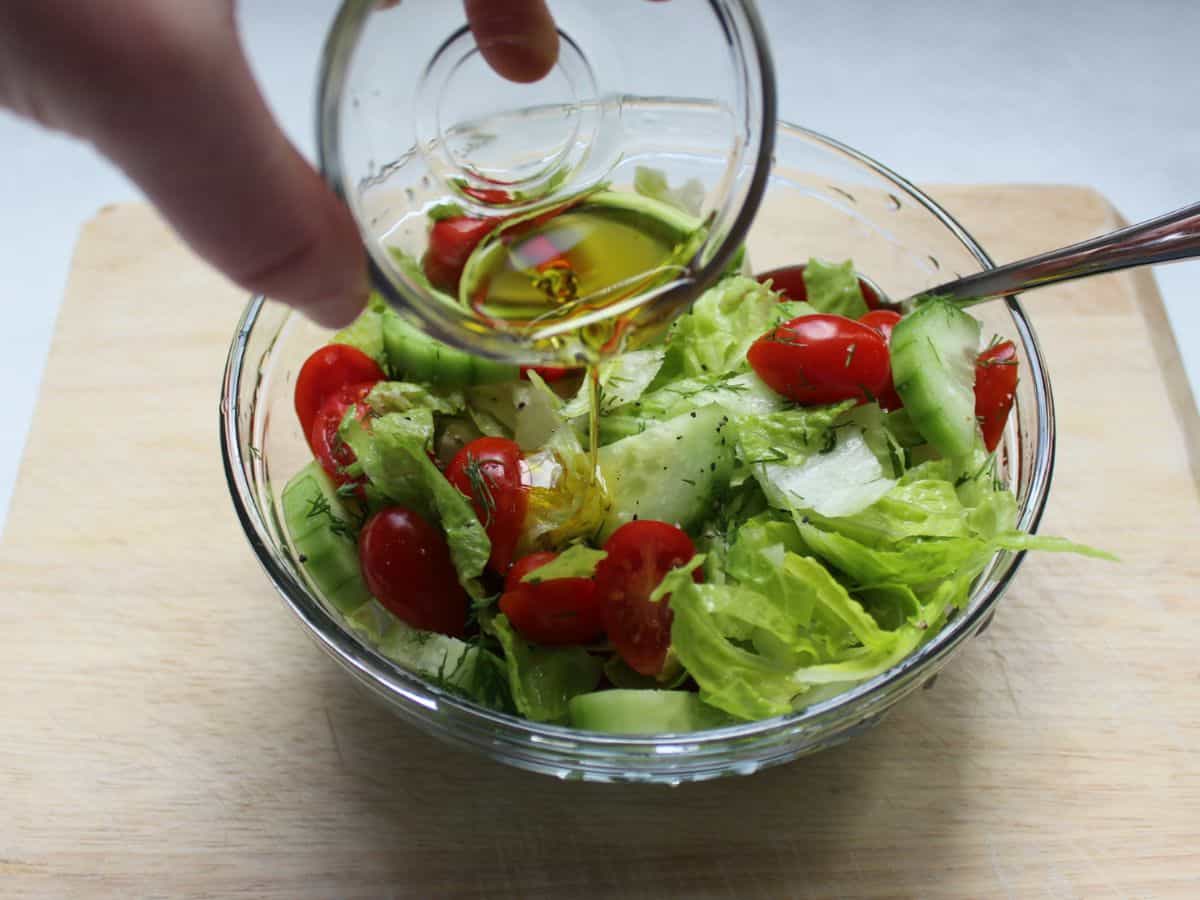 Tips and variations
seasonings: for more flavors, add dried basil, oregano, and thyme.
make it creamy: you can dress the salad in sour cream, Greek yogurt, or even homemade Caesar dressing.
extra veggies: add some sweet bell peppers, shredded carrots, or thinly sliced red onions.
If you like your salads to have acidity, drizzle them with a little bit of lemon juice or apple cider vinegar.
this salad is the best when made with fresh seasonal vegetables.
How to store
Store prepared salad in an air-tight container in the fridge for up to 2-3 days. Consider adding the oil and salt right before serving if you plan to store it for more than 1 day, as the salt will draw juices out of the vegetables.
Serving ideas
Side dish: this fresh salad pairs well with so many side dishes, such as grilled chicken, fish, pasta, or rice.
Protein: add some chicken breasts or a steak to make it a complete meal, like our tuna Caesar salad, or blackened chicken Caesar salad.
With toppings: add some homemade croutons, seeds, or nuts for more crunch and flavor.
Frequently asked questions
How many calories are in a salad made with lettuce, cucumber, and tomatoes?
There are approximately 80 calories in one cup of this salad, which includes the olive oil dressing.
For accurate calorie numbers, weigh all the ingredients and use the calorie counter app.
What goes well with this salad?
Chicken, fish, steak, potatoes, pasta, or rice are all great main dishes to serve with this salad.
Are tomatoes, cucumbers, and lettuce great for weight loss?
Tomatoes, cucumbers, and lettuce are low in calorie vegetables and can be a great side dish for a high-protein meal.
Recipe
Lettuce Cucumber Tomato Salad
Lettuce cucumber tomato salad is bright, crunchy, and fresh. Fresh garden veggies are tossed in a simple dressing to create this simple, yet flavorful dish goes well with any meal.
Equipment
1 salad bowl

measuring spoons

veggie peeler
Ingredients
1

bunch

romaine lettuce

or any other lettuce

2

large cucumbers

1

cup

cherry tomatoes

or 2-3 large tomatoes

2

Tablespoons

extra virgin olive oil

use walnut oil or pumpkin seed oil for more complex flavors

2-3

sprigs

fresh dill

optional

¼

teaspoon

salt

or by taste

¼

teaspoon

black pepper
Instructions
Wash and dry cucumbers, tomatoes, lettuce and dill. Peel the cucumbers if they are waxy.

Slice cucumbers into round or half rounds. Slice cherry tomatoes in hall. Chop lettuce and dill. Add all chopped veggies and dill to the salad bowl.

Add salt, black pepper and drizzle with extra virgin olive oil. Enjoy right away or chill for an hour before serving.
Notes
for more tangy taste, use vinaigrette or add some apple cider vinegar.
use heirloom tomatoes in summer and cherry tomatoes in winter.
cucumber peel is edible, but have to be peeled if it has a layer of wax.
if you plan to store the salad for more than 1 day, add the salt and dressing before serving.
all nutritional facts are for informational purposes only.
Nutrition
Serving:
1
cup
Calories:
82
kcal
Carbohydrates:
4.2
g
Protein:
0.7
g
Fat:
6.8
g
Sodium:
149
mg
Fiber:
2.7
g
Sugar:
1
g