California chicken salad is a creamy and full of fresh flavors dish made with lean chicken, celery, grapes, and avocado alongside a tangy dressing.
Jump to:
What is California chicken salad?
After doing some deep research, I concluded that the history of California chicken salad is quite vague.
All we know is that the salad more than likely originated in the state of California, which is known for using fresh, local ingredients in cooking. This salad is basically the light version of traditional chicken salad.
The California version usually includes cooked chicken, fruits, nuts, and celery, along with mayonnaise or yogurt dressing for creaminess.
It is similar to the chicken salad with pecans where I cranberries are added for sweetness.
By the way, if you are not a fan of celery, you may like our new chicken salad recipe without celery.
Whole Foods' version of the salad is called Sonoma salad and it usually has added poppy seeds to the dressing.
The California salad is often served cold as a light meal, a side dish, or in the form of a sandwich.
Taste: a tangy, savory dish with a pop of freshness and sweetness coming from the grapes. Green onions add a subtle but distinct flavor to the salad, balancing all the flavors together.
Texture: tender chicken meat, crunchy celery, nuts, creamy dressing.
Time: if you already have cooked chicken, it takes about 15 minutes to make this salad. Cooking the chicken will take about 20 minutes more.
Ingredients overview
You can find the ingredient quantities in the recipe card at the end of the post.
For the salad:
Cooked chicken meat: you can use breasts, skinless thighs, or legs. Discard the bones and skin. I usually use the leftovers of rotisserie chicken to make this salad.
Celery: make sure to use fresh and crunchy celery.
Grapes: green or red, it's up to your preference. For this salad, I prefer red ones as red grapes are fruitier and sweeter. Green
Avocado: I made it with and without it. But if you already have a ripe avocado, cube it and add it to the salad. It is a great source of good fats and adds a lot of creaminess.
Green onions (scallions): green onions are milder compare to red or yellow ones. They have a delicate taste with a hint of spiciness. They also add a pop of color and a subtle onion flavor to the salad.
Walnuts (raw or roasted): you can use chopped walnuts or pecans. If preferred, toast raw walnuts on a hot frying pan for about 5 minutes for more flavor.
Salt and pepper: I add some salt and pepper to already chopped ingredients before adding the dressing.
For the dressing:
Light Mayo or Greek yogurt: I usually use mayonnaise but good quality Greek yogurt works as great. You can even use a combo of both.
Dijon mustard: its' sour and spicy taste adds complexity to the dressing.
Lemon juice: for fresh and bright flavor.
Honey: I like to add just a little bit of honey to balance the dressing flavors.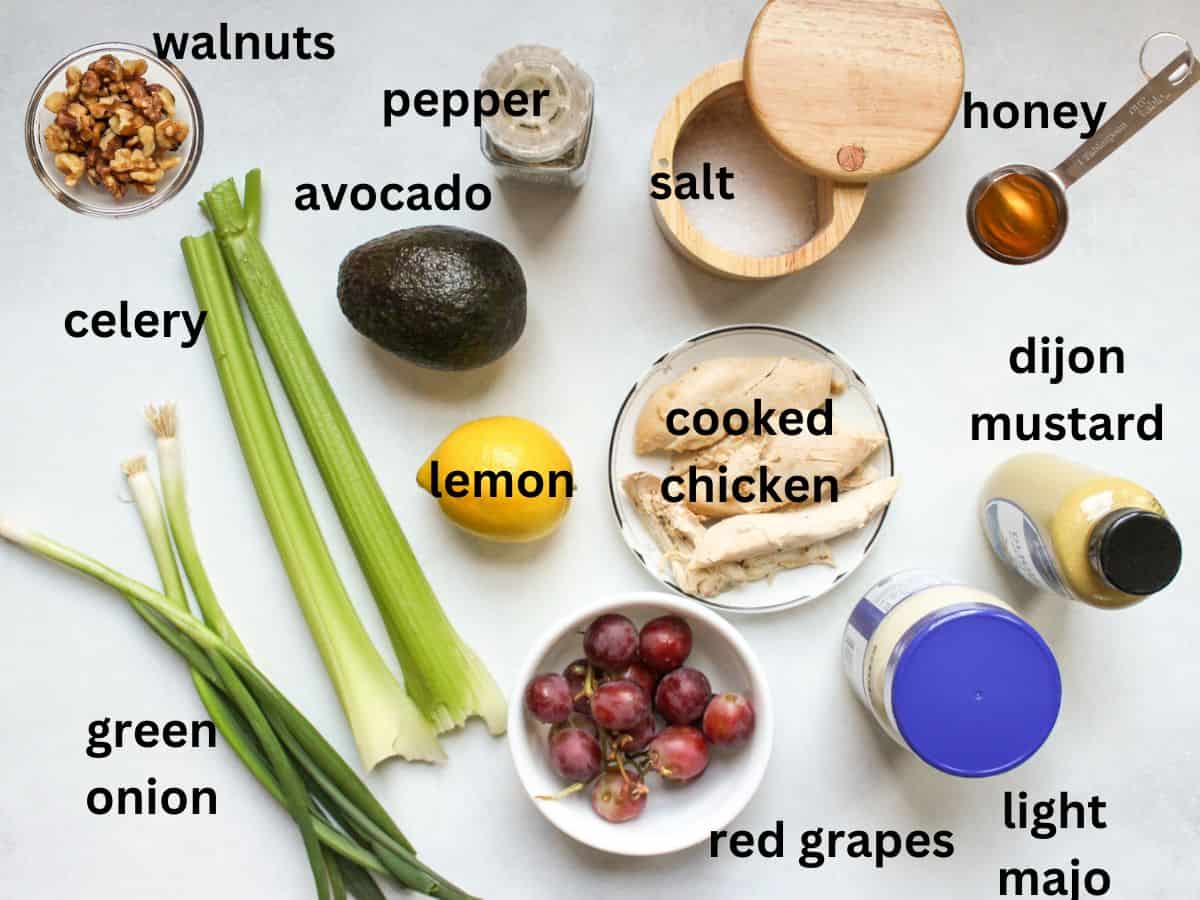 How to make California chicken salad with grapes
Step 1. Skip this step if you have cooked chicken on hand. In a small pot, add one chicken breast and enough water to cover it. Bring to a boil and simmer for about 17-20 minutes or until the internal temperature reaches 165°F. You can also bake the chicken with your favorite seasonings. Let the chicken cool down.
Step 2. Rinse celery, grapes, and green onions under cold water. Prepare a medium or large bowl. Dice cooked chicken into cubes. Slice celery in half ribs lengthwise. Chop them into small cubes. Dice the green onions finely and chop the walnuts. Scoop half of the avocado with a spoon and cut it into cubes. As for grapes, I usually quarter them because I have a kid. If serving for adults, you can cut the grapes in half, especially if they are small. Add all chopped ingredients to the mixing bowl. Sprinkle with some sea salt and black pepper.
Step 3. The Dressing. In a small bowl add mayonnaise ( or Greek yogurt), Dijon mustard, lemon juice, and honey. Stir until one consistency. Taste the dressing and add more lemon juice or honey if needed. Do not add too much honey, it needs to stay more sour than sweet.
Step 4. Add the dressing to the salad and mix until all the ingredients are coated. After tasting, you may add more salt and black pepper if needed.
Recipe tips
rubbery chicken: if you have slightly overcooked chicken, shred it instead of dicing it. This will prevent it from tasting rubbish.
lighter dressing: you can make the dressing with only Greek yogurt, or a combination of both. Also, do not add all the dressing at the same time as the salad may need less or more depending on the mount of the ingredients.
presentation: the rims of the bowl will be covered in mayo after mixing and it may not look very appealing. So once you mix the salad with a dressing, transfer it to the clean salad bowl for serving.
storage: you refrigerate this salad in an airtight container for up to 3-4 days.
Serving ideas
Light meal: serve over the bed of your favorite greens and a multigrain toast on a side.
Salad in a jar: layer the chicken salad in a mason jar for an easy-to-go meal. Starting with the dressing at the bottom followed by chopped salad ingredients, and with some fresh green salad mix on top.
Wrap: wrap creamy chicken salad in a soft tortilla or pita bread for a quick and easy lunch. For a low-carb option, wrap it in a large lettuce leaf.
Sandwich: toast two slices of bread or use a plain croissant sliced in half, add chicken salad, a slice of cheese, and a few leaves of iceberg or butter lettuce.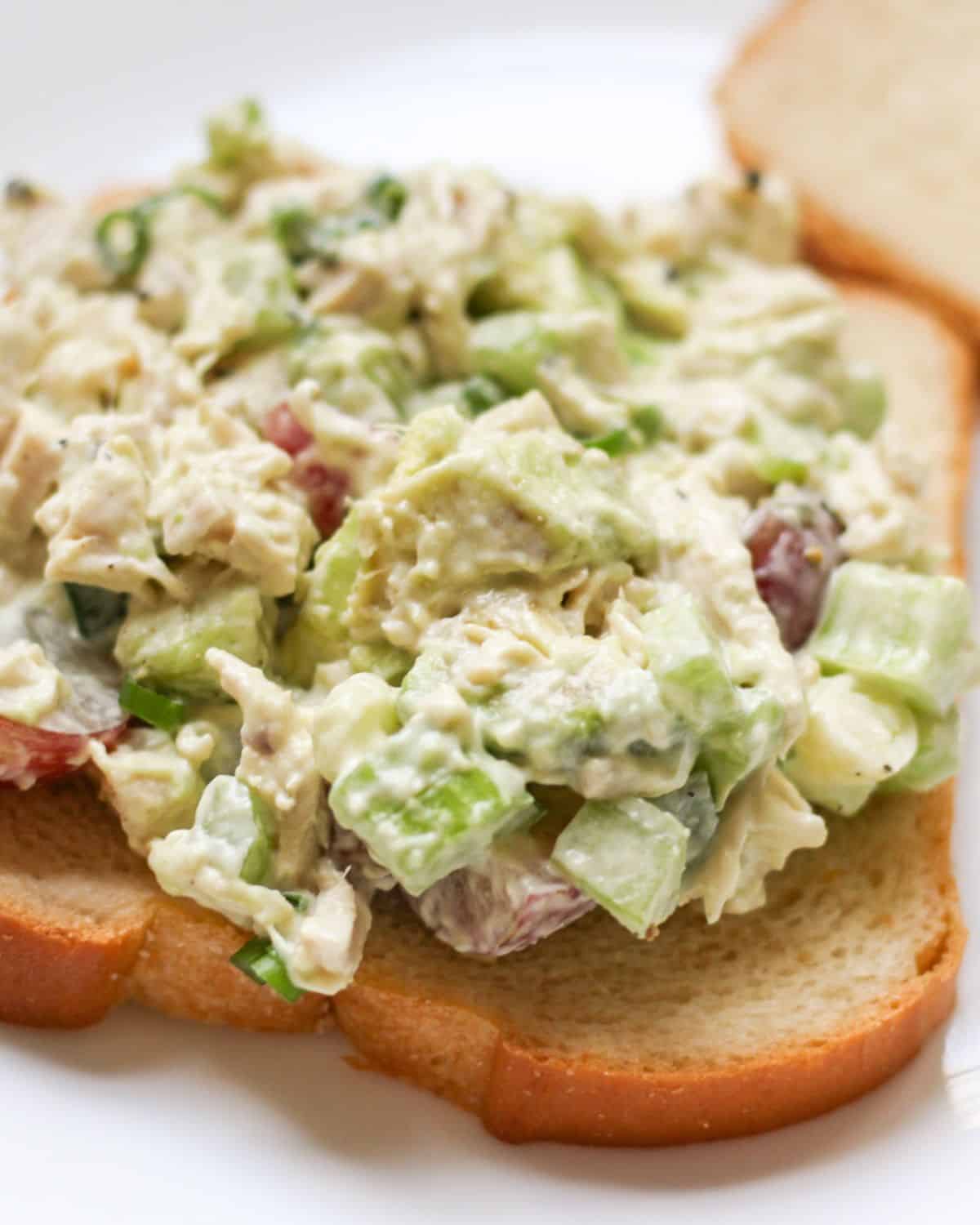 Frequently asked questions
Will this chicken salad freeze well?
Although it is safe and possible to freeze certain chicken salads, I do not recommend freezing this particular one. It will lose its freshness and crispiness as it contains a lot of fresh produce.
Should chicken salad be served cold or at room temperature?
Chicken salad (like most salads) should be served cold. You can chill it in the fridge for a few hours before serving.
What goes well with California chicken salad?
Roasted vegetables, sweet potato fries, and creamy soups are all great dishes to serve with chicken salad.
Other dinner salads ideas you may like
Recipe
California Chicken Salad
California chicken salad is a creamy and full of fresh flavors dish made with lean chicken, celery, grapes, and avocado alongside a tangy dressing.
Equipment
1 measuring cup

measuring spoons

large mixing bowl
Ingredients
2

ea

medium cooked chicken breasts

about 1 cup diced

2

ea

celery ribs

¾

cup

whole red grapes

½

ea

avocado

2

ea

green onions

2

tablespoon

walnuts

2

pinches

salt and pepper, by taste
Dressing
6

Tablespoons

light mayonnaise

1

Tablespoon

Dijon mustard

1

Tablespoon

lemon juice

2

teaspoons

honey
Instructions
Rinse and pat dry the vegetables. Dice cooked chicken into cubes. Slice the celery ribs in half lengthwise and dice into small pieces. Quarter the grapes, chop walnuts. Cube avocado. Dice green onions finely, reserving about one teaspoon for garnishing. Add all the ingredients to the bowl. Sprinkle with some salt and pepper by taste.

Add half of the dressing to the salad. Mix to coat the ingredients. Add more dressing, one Tablespoons at a time until desired creaminess and consistency achieved. I usually have about 1 Tablespoon of dressing left.

Transfer the mixed salad to the serving bowl. Garnish with the remaining scallions and some black pepper.
Dressing
In a small bowl, add 6 tablespoon mayonnaise, 1 tablespoon Dijon mustard, 1 tablespoon lemon juice, 2 teaspoon honey. Stir to combine. Taste the dressing and add more honey or lemon juice if needed.
Notes
you can use Rotisserie chicken to make the salad. Any other chicken leftovers work well too,  just make sure to adjust salt quantity.

you can boil or bake chicken breasts for the salad.
serve it as it is or as a sandwich.
store the California chicken salad in the fridge for up to 3 days.
all nutritional facts are for informational purposes only.
Nutrition
Calories:
346
kcal
Carbohydrates:
13.6
g
Protein:
24.9
g
Fat:
18.7
g
Sodium:
602
mg
Fiber:
2.5
g
Sugar:
8.2
g