Enjoy the delicious combination of flavors and textures that make up a classic chicken salad. This chicken salad requires only a few simple ingredients, making it a perfect option for a light lunch or dinner.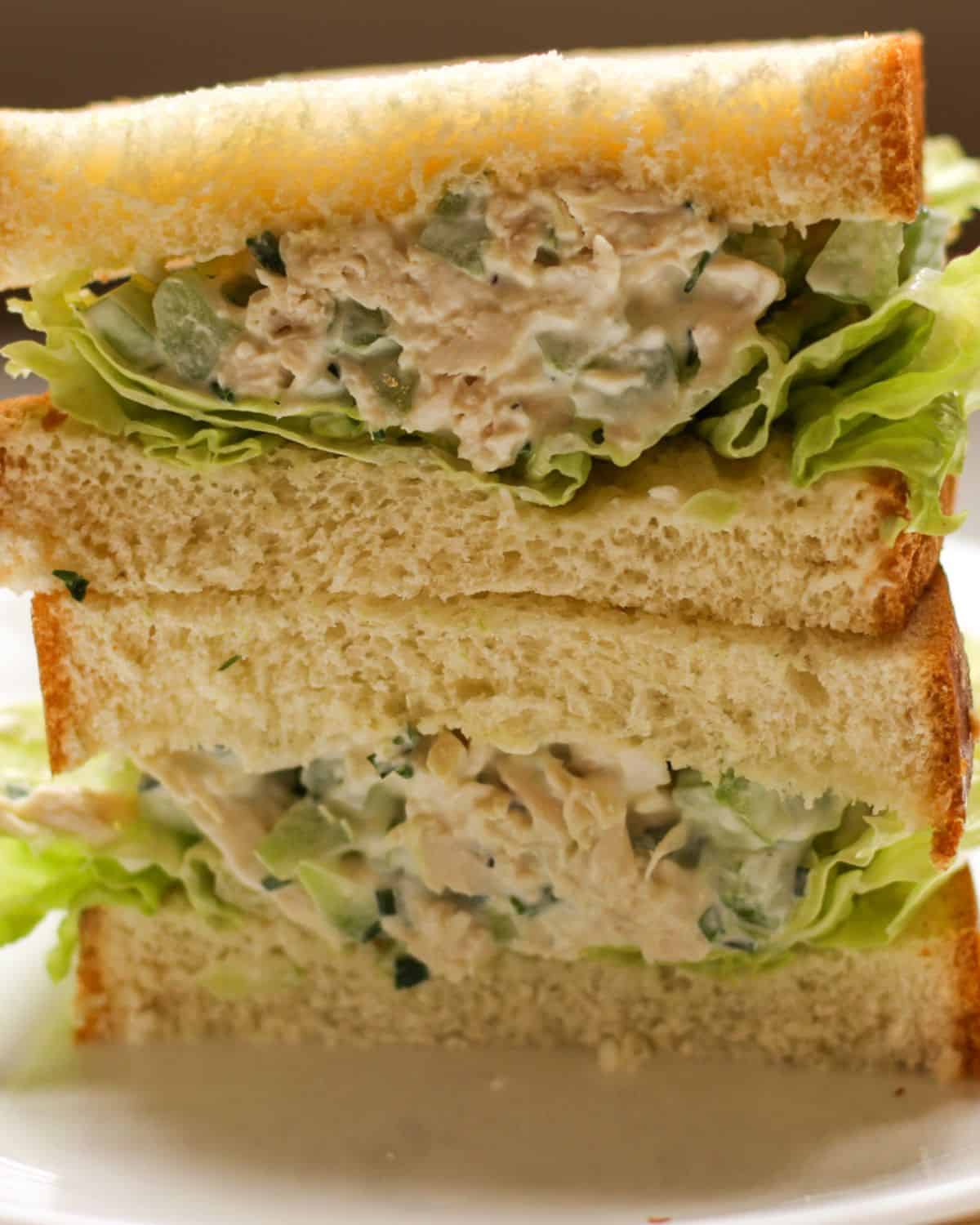 Jump to:
About the classic chicken salad recipe
Even though almost every country has its own variation of the dish, it remains unclear who and where created the very first chicken salad.
After traveling in a lot of different countries, I can for sure tell that chicken salad holds a significant place in American cuisine. That's why I was so curious to find out what was the original recipe and how it has changed over time to become the classic one.
After doing my research, I found out that the first chicken salad in America was made in 1863, by Liam Gray, in Rhode Island. He was the owner of the market Town Meats.
Similar to the first Caesar salad, chicken salad was made with the leftovers. Liam Gray mixed leftover chicken with mayonnaise, grapes, and tarragon which later became the famous chicken salad.
Over time, people tested and mastered the recipe by excluding or adding various ingredients, such as celery, nuts, various herbs, and spices. That is what makes it classic, right?
That's why today, the most recognized classic chicken salad includes tender chicken, crunchy celery, onions (green or yellow), and mayo. The chicken is usually diced or shredded and mixed together with the rest of the ingredients. You can also add your favorite spices and herbs by taste.
Some variations, like Sonoma chicken salad, or Cranberry pecan chicken salad include fresh or dried fruits and nuts for a sweet and crunchy twist.
And if you do not like celery, try our Celery-free chicken salad.
Here is why you will love this recipe:
Versatile: you can enjoy it as a sandwich, side dish, or even as a main dish.
Customizable: you can add nuts, cucumbers, apples, and grapes.
Satisfying texture: it is creamy, crunchy, and juicy.
Easy: if you already have cooked chicken, the salad takes only about 10 minutes to make.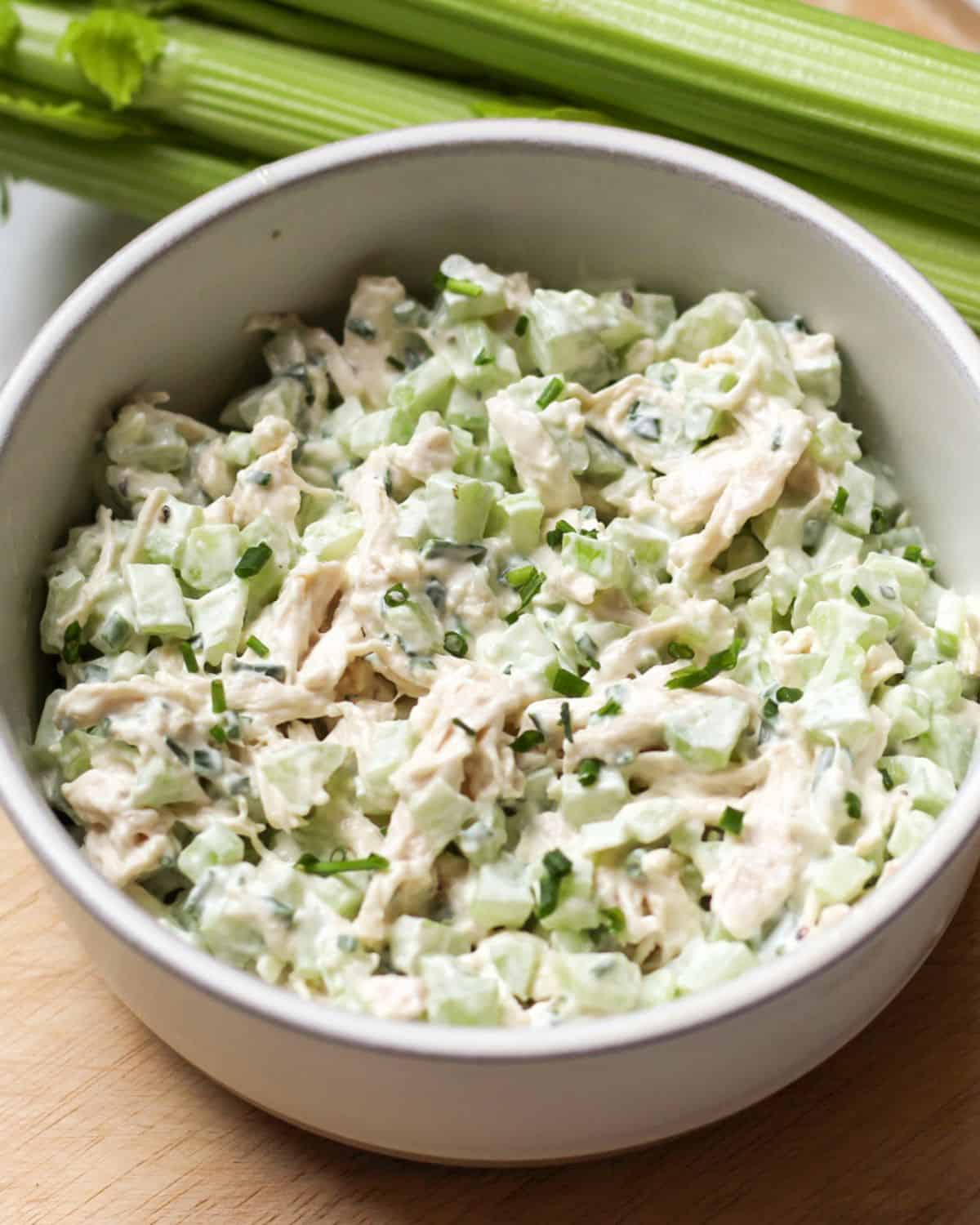 Ingredients
You will need only a few basic ingredients to make a traditional chicken salad. Please, see the recipe ingredients' quantities in the recipe card at the end of this post.
Chicken: most of the time, I use boiled skinless chicken breasts. You can use dark, white, or both types of meat. This a great recipe to use the leftovers of your rotisserie chicken. If you are using skin-on chicken breasts or legs, make sure to remove the skin before shredding.
Celery: use fresh, crispy celery.
Mayonnaise: full-fat good quality mayo is the one ingredient you need for the dressing.
Chives: I usually use chives or green onions. You can also use regular onion, but I find it too strong.
Fresh Tarragon: Since I found out that fresh tarragon was used in the original recipe, I always add some to my chicken salad. It adds a unique flavor to the salad and can be described as lightly sweet with a hint of licorice.
Ingredients substitutions
Chicken: you can cook your own or use canned chicken. Rotisserie chicken is also great to make salad.
Creamy dressing: use full fat or light mayonnaise. I like it simple and always use full-fat mayo with some salt and black pepper by taste. Some people also like to add miracle whip, sour cream, and Dijon mustard. If you like tangy dressings, try adding a teaspoon of fresh lemon juice.
Onions: you can use finely chopped yellow or red onion. I like green onions or scallions as they are much milder.
How to poach chicken breast for the salad
Very often chicken salad is made with leftovers of cooked chicken (rotisserie, baked, grilled, fried).
But when you are making the dish for the guests or bringing it along for a potluck, you want to cook the meat the same day or at least the night before you are making the salad.
Good thing, poached chicken is easy to make and it will take you only about 25 minutes from start to finish. You will need a medium pot and a meat thermometer. Below are the easy directions on how to do so:
Step 1. Start by arranging 2 chicken breasts a the bottom of the pot. Now, add sprinkle it with a ½ teaspoon of salt, and pour enough cold water to cover the chicken. You can also add bay leaf, whole garlic cloves, onion, and any herbs you like.
Step 2. In about 10 minutes, the water starts boiling. You do not have to skim off the white foam (unless you gonna use the broth to make the soup). After it starts boiling, cover the pot and simmer the meat over low-medium heat for about 13-17 minutes. I usually start checking after 12 minutes, by inserting a thermometer probe into the thickest part of the chicken breast. Once the internal temperature reaches 165, the meat is fully cooked.
Step 3. Now, let the chicken breast cool down before you shred or dice it.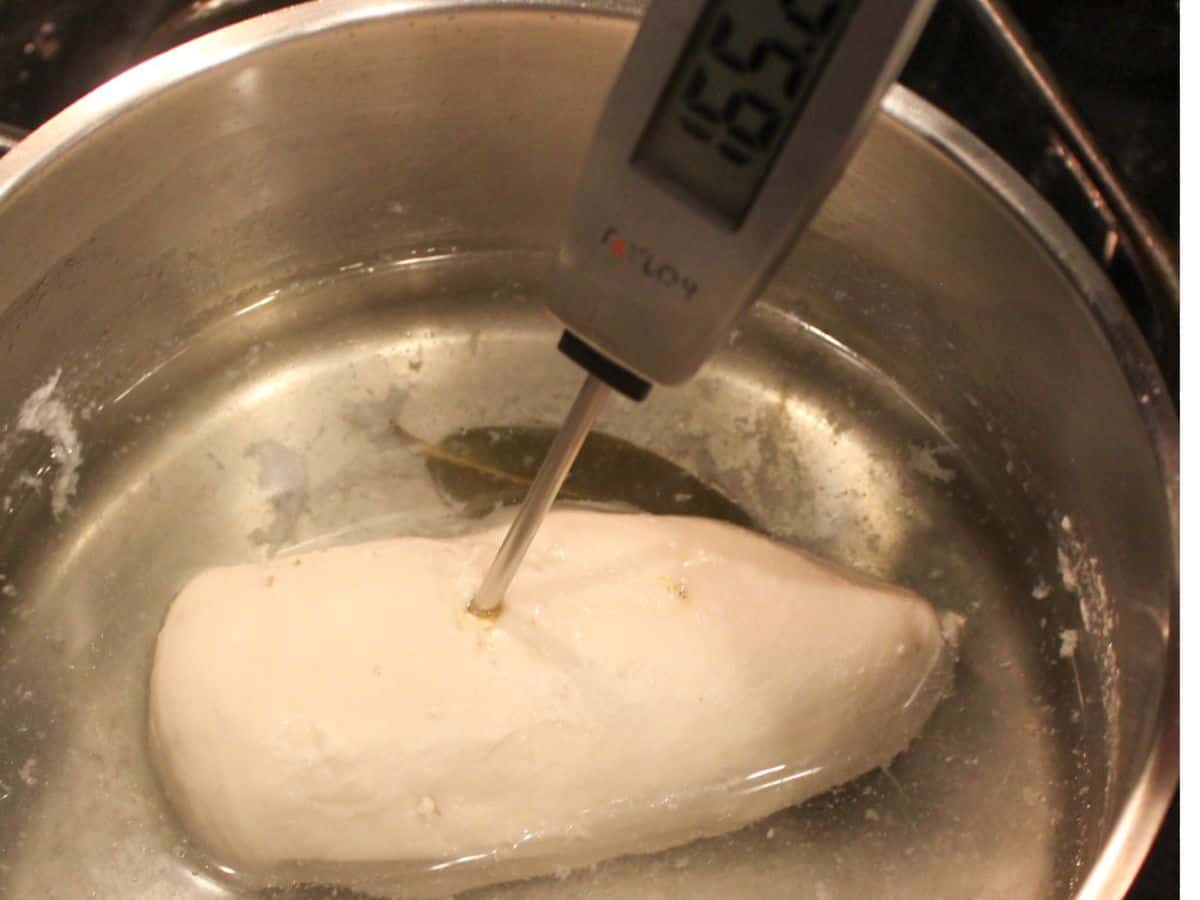 How to make the salad
Below are the detailed instructions with images on how to make this easy recipe :
Step 1. Remove the cooked chicken from the fridge or cook the chicken breasts by following the instructions above. You can shred or dice the meat into small cubes. Today, I finely shredded it.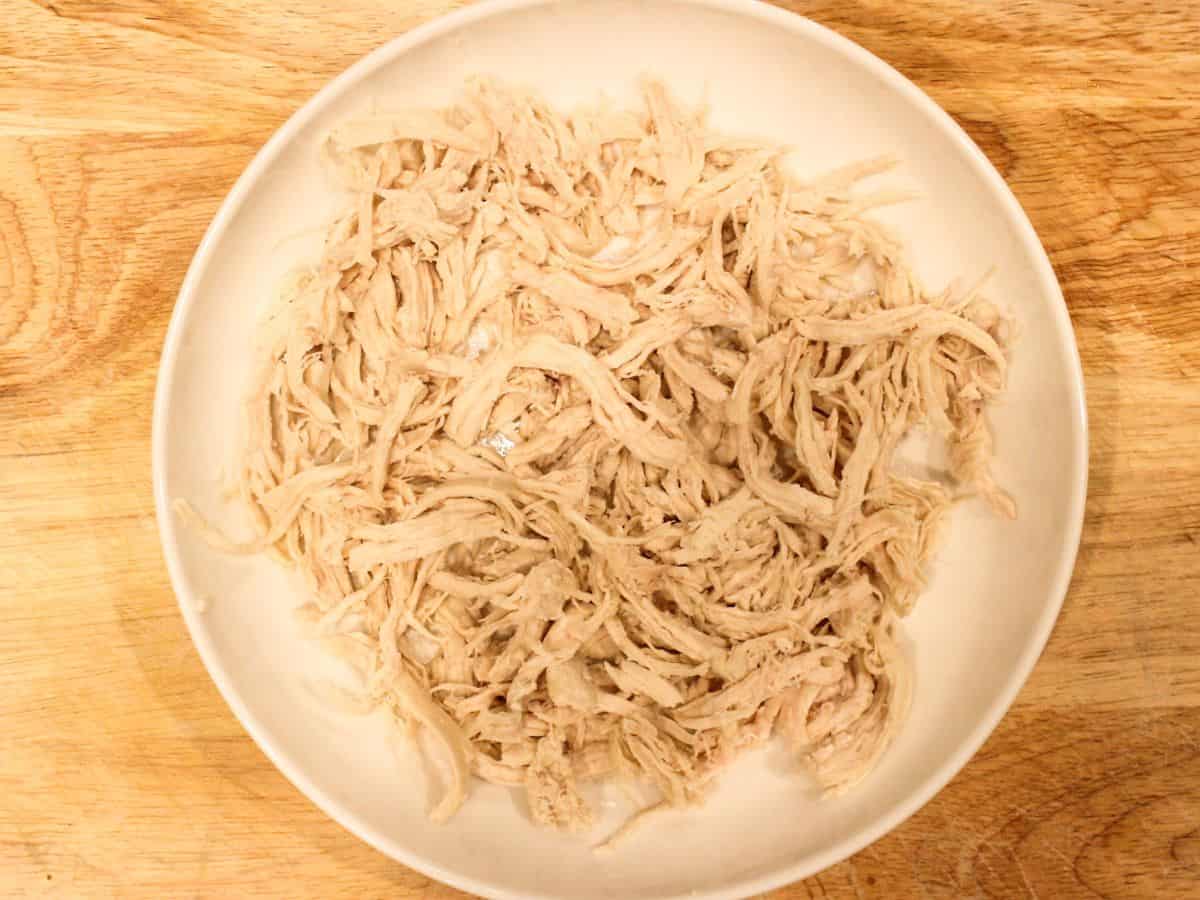 Step 2. Wash the celery well to remove any dirt. Place a celery stalk on a cutting board and slice it in lengthwise into several strips. Gather the strips together and chop them in to small peaces. Repeat with the rest of the celery.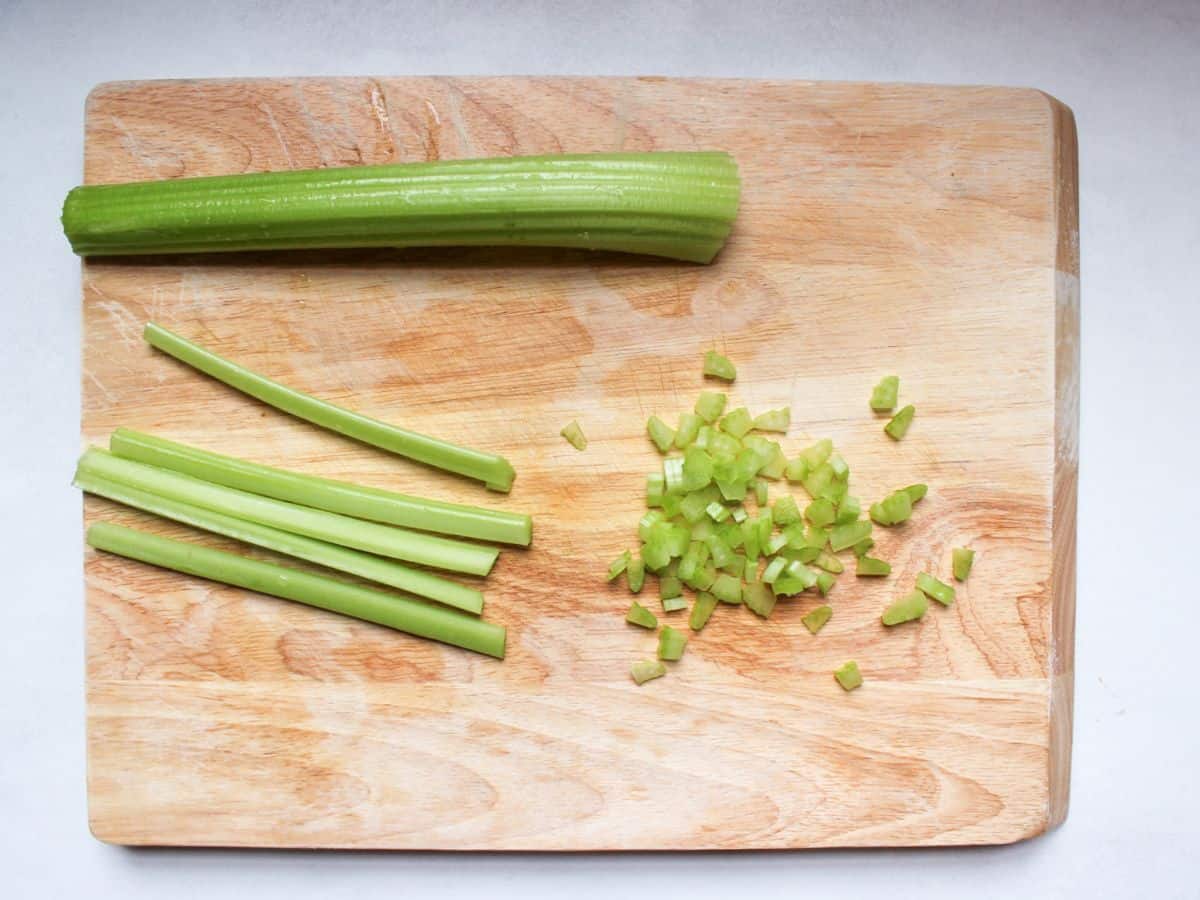 Step 4. Rinse and finely chop chives and tarragon.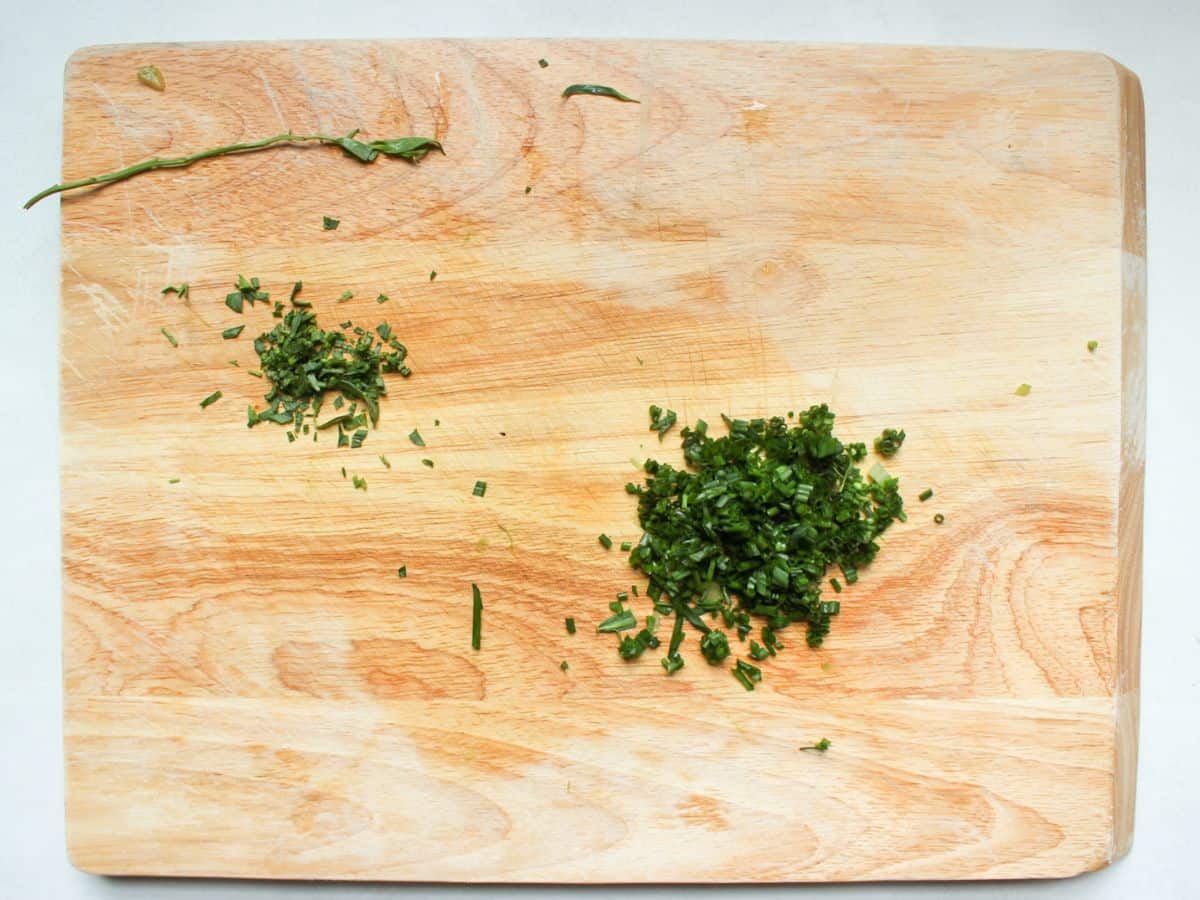 Step 3. In a large mixing bowl, add shredded chicken, diced celery, chives, and tarragon. Sprinkle everything with some sea salt and pepper.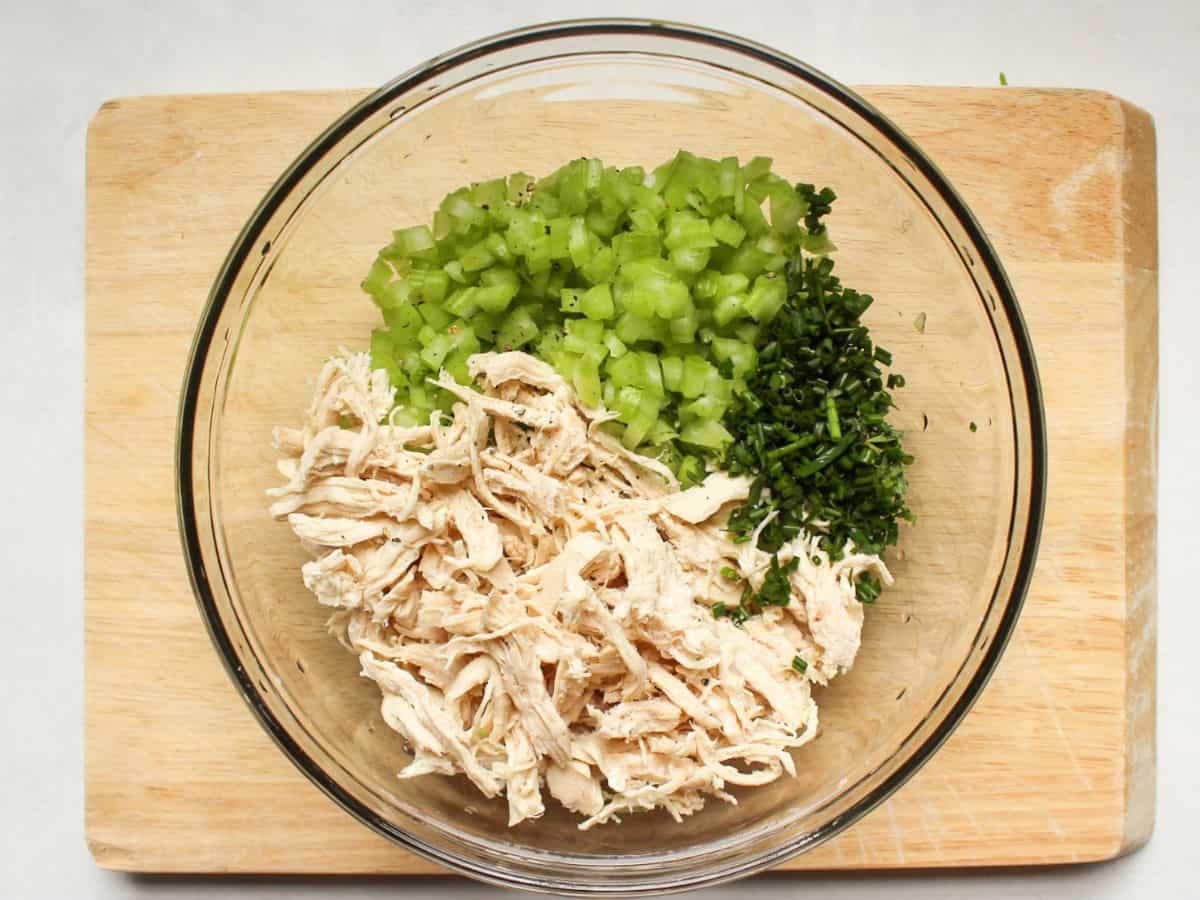 Step 4. Add about ½ cup of mayo and mix the salad until all the ingredients are evenly coated. Taste the salad and add more seasonings if needed. Transfer the salad to a smaller bowl or a container. Cover and chill for at least one hour before serving.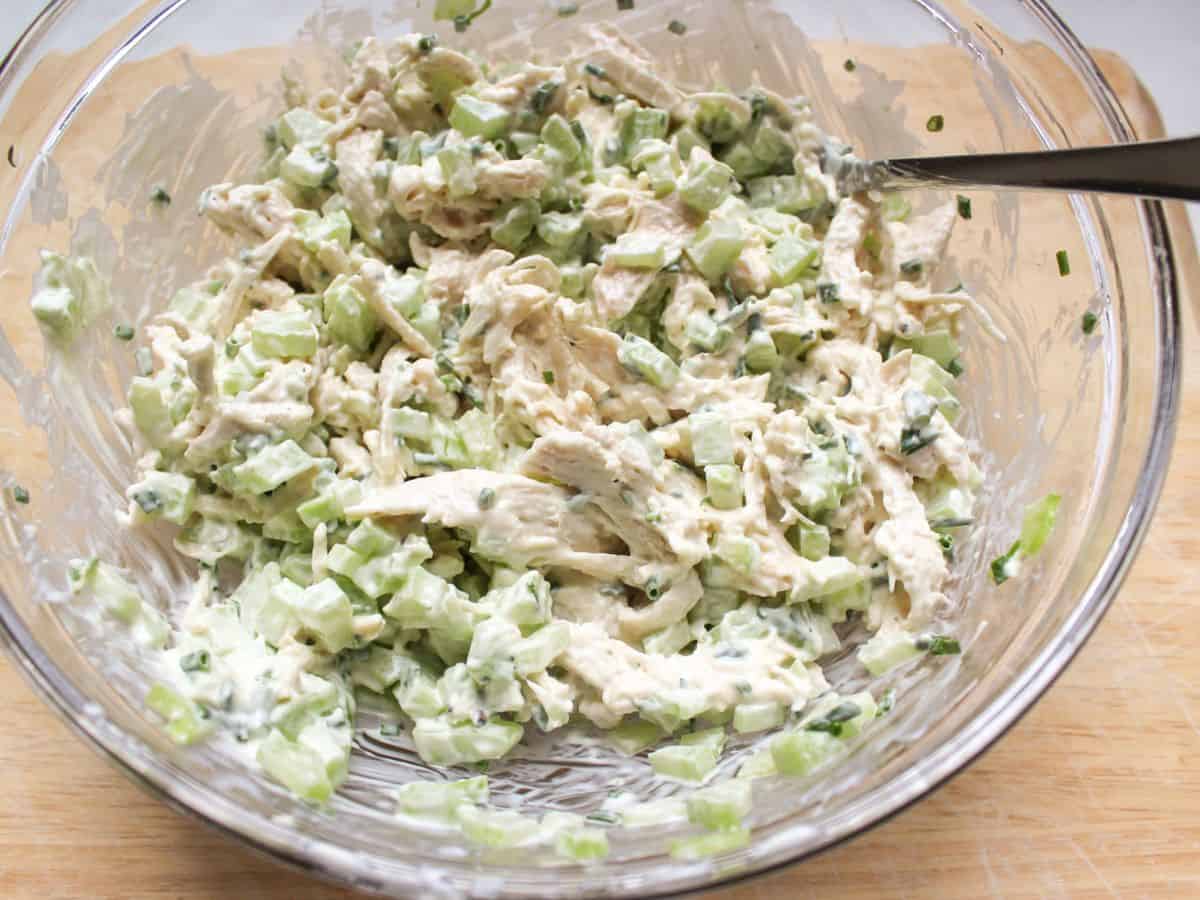 Recipe tips
make sure to add only a little bit of tarragon (not more than 1 tsp), as it may make the salad bitter.
chill before serving: this will allow the flavors to meld together
for a lighter, dairy-free option, use a honey mustard dressing or vinaigrette.
food safety tip: do not let the salad sit out at room temperature for longer than 2 hours.
if you decide to bring it on a picnic, pack it in a cooler with some ice.
add fresh herbs: green herbs such as chives, parsley, and dill, will add vibrant color and fresh flavors.
Mix-ins
The classic chicken salad usually has only the above-listed ingredients. From my experience, if making it for a big crowd, it's better to stick to the traditional version that people already know.
Especially, avoid adding the nuts if making it for a large group of guests, as some people may have an allergy.
But when I make it for myself and my family, I like to change things up by adding the following ingredients:
Fruits: red grapes, green apples.
Vegetables: bell peppers, cucumbers, carrots.
Meat: bacon bits or finely diced ham.
Nuts: walnut, almonds, or pecans.
Fresh herbs: chives, fresh parsley, dill, cilantro.
Serving ideas
Classic chicken salad sandwich: spread a spoonful of chicken salad on a slice of bread or croissant. If desired, add a slice of tomato and lettuce. Place the other slice of bread on top and press it gently.
Wraps: spoon a portion of salad onto a tortilla. Add your favorite toppings. Fold the sides, and roll it up to make a tight wrap. You can use lettuce leaves for a low-carb version.
Cold main dish: this salad can be a great main dish for lunch or a picnic. Serve it with crackers, baguettes, or roasted vegetables.
Make ahead
Leftover chicken salad will last 3-5 days in the fridge. Make sure to store it in an airtight container to preserve freshness and quality.
Another important note: if you made the salad with the leftover chicken, do not forget to consider the days the chicken has been sitting in the fridge.
For example, if you are using chicken that was cooked 2-3 days ago, it is advised to consume the salad made within 24 hours.
It is safe to freeze chicken salad for up to 3 months.
Our recent salads you may like
Recipe
Classic Chicken Salad
Enjoy the delicious combination of flavors and textures that make up a classic chicken salad. This chicken salad requires only a few simple ingredients, making it a perfect option for a light lunch or dinner.
Equipment
1 cutting board

1 knife

1 measuring cup

measuring spoons

1 large bowl
Ingredients
2

cups

shredded or diced cooked chicken

½

cup

mayonnaise

2-3

ea

celery stalks, finely diced

1

Tablespoon

diced chives or green onions

1

teaspoon

finely chopped tarragon leaves (no stems)

or some fresh parsley

¼

teaspoon

salt

¼

teaspoon

black pepper
Instructions
In a large bowl, add shredded chicken, diced celery, chopped chives and tarragon. Sprinkle the ingredients with salt and pepper. Mix it using a spoon.

Add ½ cup of mayo to the bowl. Mix until all the ingredients are evenly coated.

Taste the chicken salad and adjust the seasoning if needed. Cover the bowl and chill in the fridge for at least one hour. Enjoy on its own or as a sandwich.
Notes
do not add too much tarragon as it may make your salad bitter.
you can use dark or red chicken meat.
you can poach chicken breasts for the salad if needed,  otherwise use the leftover of any cooked chicken you have.
the nutrition facts are only estimate, I used the calorie count application to manually calculate it.
Nutrition
Calories:
193
kcal
Carbohydrates:
0.8
g
Protein:
5.9
g
Fat:
18.2
g
Sodium:
181.3
mg
Fiber:
0.4
g
Sugar:
0.4
g