Try our fresh and flavorful twist on a classic chicken salad made with apples and capers. Chicken salad without celery is still crunchy, juicy, and so easy to make.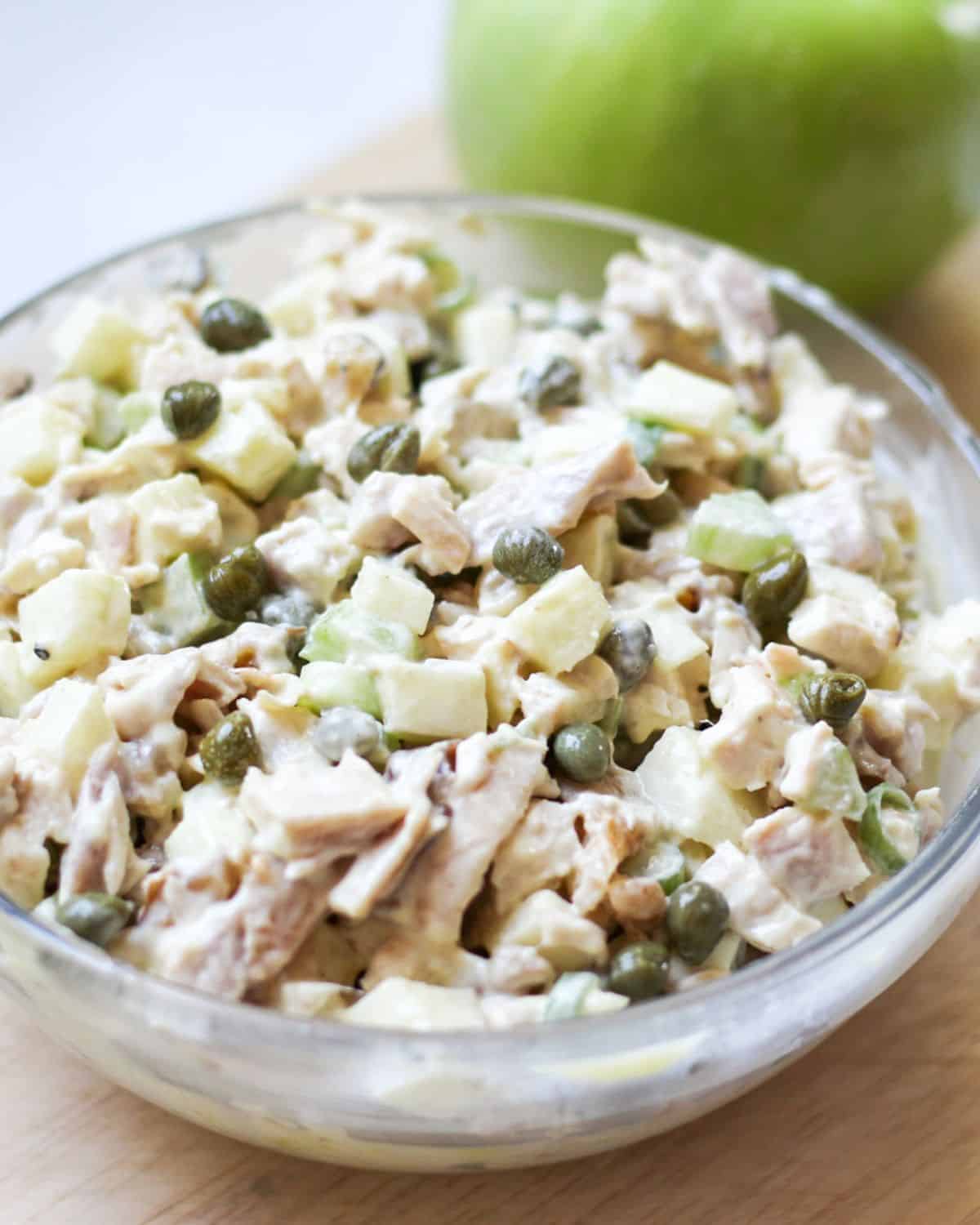 Jump to:
Chicken salad without celery recipe
This delicious chicken salad is bursting with bright flavors from green apples, tangy capers, and savory green onions, all brought together with a creamy dressing. And the best part – it celery-free. So whether you simply dislike celery or avoid it by necessity, you still can enjoy your favorite dish.
The classic recipe has always been a staple, but why not put a fresh spin on it by trying out some new and exciting flavor combinations instead?
One day I decided to make a chicken salad, but my celery was wilted. I like my celery fresh and crispy, so I added a chopped green apple instead and some capers. Adding capers was an experiment, as I wanted to use what was left in the fridge. But they made this salad so delicious and unique that I had to make a separate recipe for it.
By the way, you may also like our California chicken salad or Chicken salad with cranberries and pecans.
Do you put celery in chicken salad?
Most of the chicken salad recipes include fresh celery. But you can easily make it without it. It is a matter of preference what you add to your chicken salad. Some people enjoy the crunch and flavor that celery adds to the chicken, while others may not like it.
If you are unsure, try adding a small amount of finely diced celery to your salad and see if you like it. If you don't, you have this recipe to try.
There are instances when people need to avoid celery due to food sensitivities or due to the specific diet they follow. follow certain diets or have to void celery due to food sensitivities.
The good news is that you can make your chicken salad with no celery by substituting it with similar fruits or vegetables.
While developing the best recipe for the chicken salad without celery, I tried to substitute it with carrots, cucumbers, peppers, and apples. After my family tried different versions, they chose the one made with apple to be the winner. Even my son loved it.
Apples offer a similar crunch and texture with a milder flavor profile and added nutritional value. Apples are affordable and more likely you already have some in your fridge.
Ingredients
You can find the ingredients' quantities in the recipe card at the end of this post.
Cooked chicken breasts: you can boil, bake or use the leftover rotisserie chicken. Use both dark and white meat, just make sure to remove any skin and bones.
Apple: similar to celery, apple provides a fresh and crispy bite to the salad. Granny smith apples are considered the best types to use in salads. They are tangy, slightly tart, and firm. Pink lady or McIntosh are also great options.
Capers: These ingredients can be optional, but I strongly recommend adding capers to this type of chicken salad. They enhance the overall flavor profile and add a briny, slightly sour taste.
Walnuts: you can add walnut or pecans to the salad for extra nutrients and delicious taste.
Mayonnaise: choose full-fat, quality mayo whenever possible. For a lighter salad dressing, use ¼ cup of plain Greek yogurt and ¼ cup of Mayo.
Dijon mustard: Adds tangy and slightly sharp taste to the dressing.
Lemon juice: adds acidic notes to cut through the richness of mayonnaise.
Honey: a touch of sweetness to balance the dressing.
Seasonings: I added salt and fresh black pepper only to the dressing.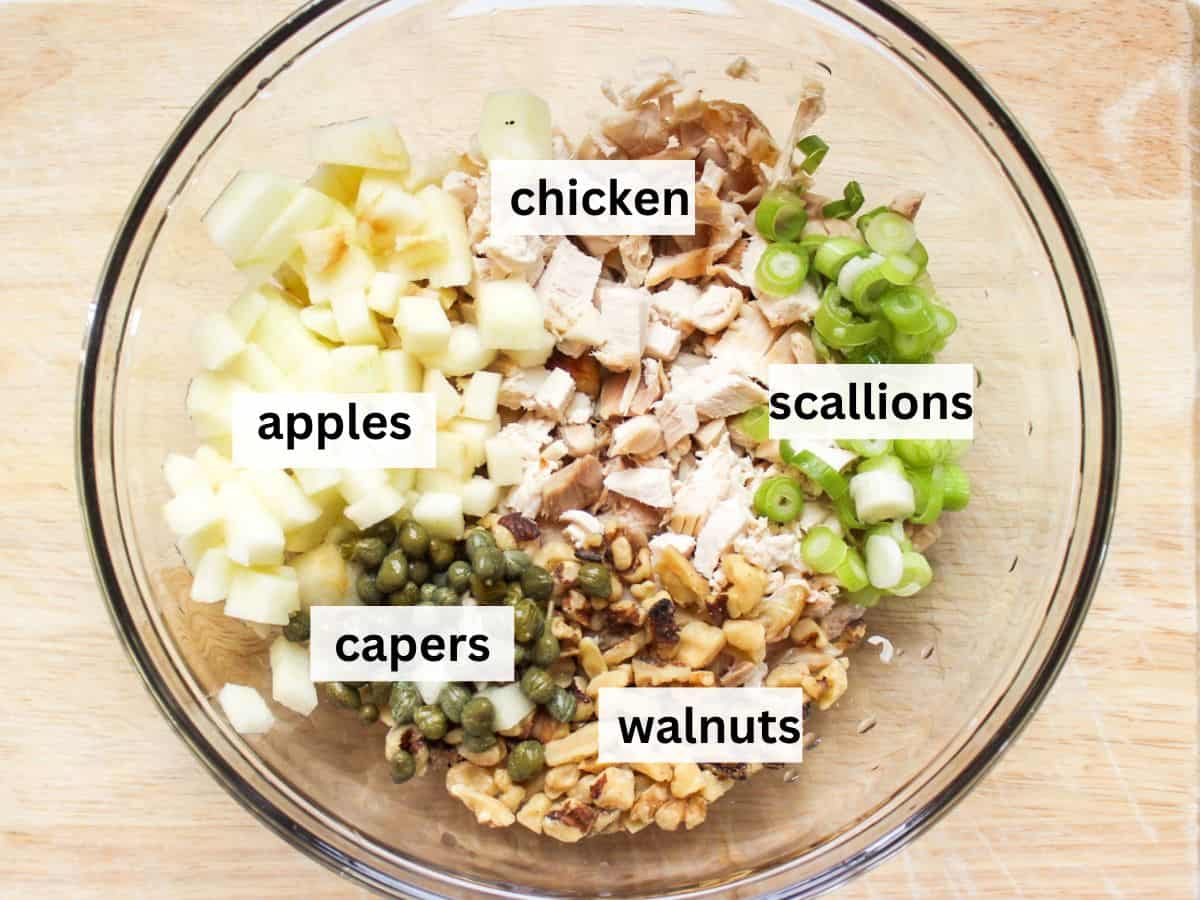 How to shred the chicken for the salad
You can dice it into small cubes or shredding. If you, by accident, overcooked the chicken, I recommend the shredding method. You can do it in two ways:
Using a hand or a stand mixer – cut the chicken into large chunks that fit the bowl of a mixer. Turn it on low low speed and gradually increase to medium. Mix it until the meat is fully shredded, for about 30-60 seconds.
Using the forks – use two forks to hold it in place and pull it apart in opposite directions until fully shredded.
How to make celery-free chicken salad
Step 0. If you do not have cooked chicken breasts, boil or bake them ahead of time, so the meat cools down. Or you can use the leftover cooked chicken you enjoyed last night. Dice the chicken breast into small pieces or shred it.
Step 1. Rinse and peel. Cut it in half and use a spoon to remove the seeds and core. Cut each half into slices (about ½-1/4 inch wide). Stack them up and cut them into matchsticks. Now, chop them crosswise into cubes.
Step 2. Rinse the green onions well, and cut off the root ends. Place the onions on a cutting board and chop both white and green parts into small pieces.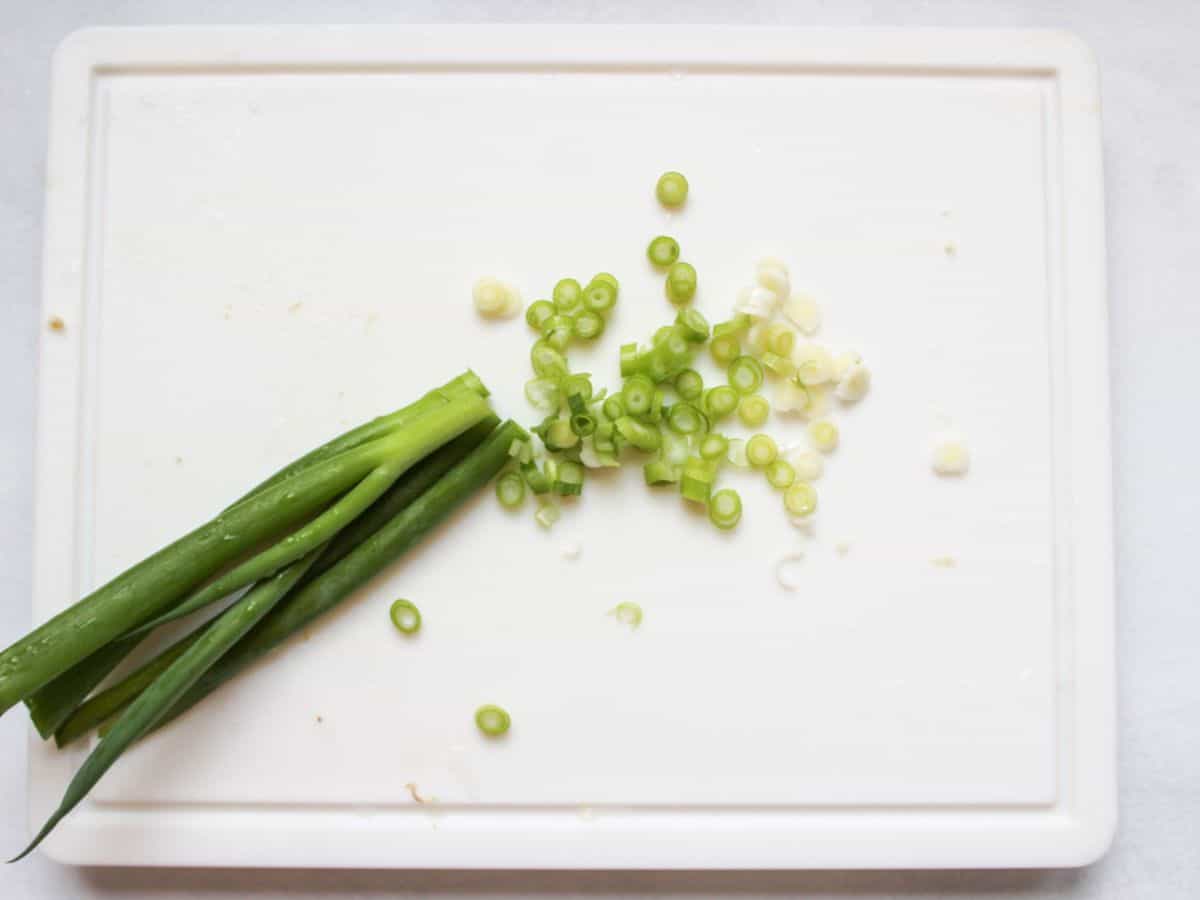 Step 3. In a separate bowl, whisk together mayonnaise, Dijon mustard, lemon juice, honey, salt, and pepper until creamy and smooth. Give it a taste and add more salt or pepper if needed.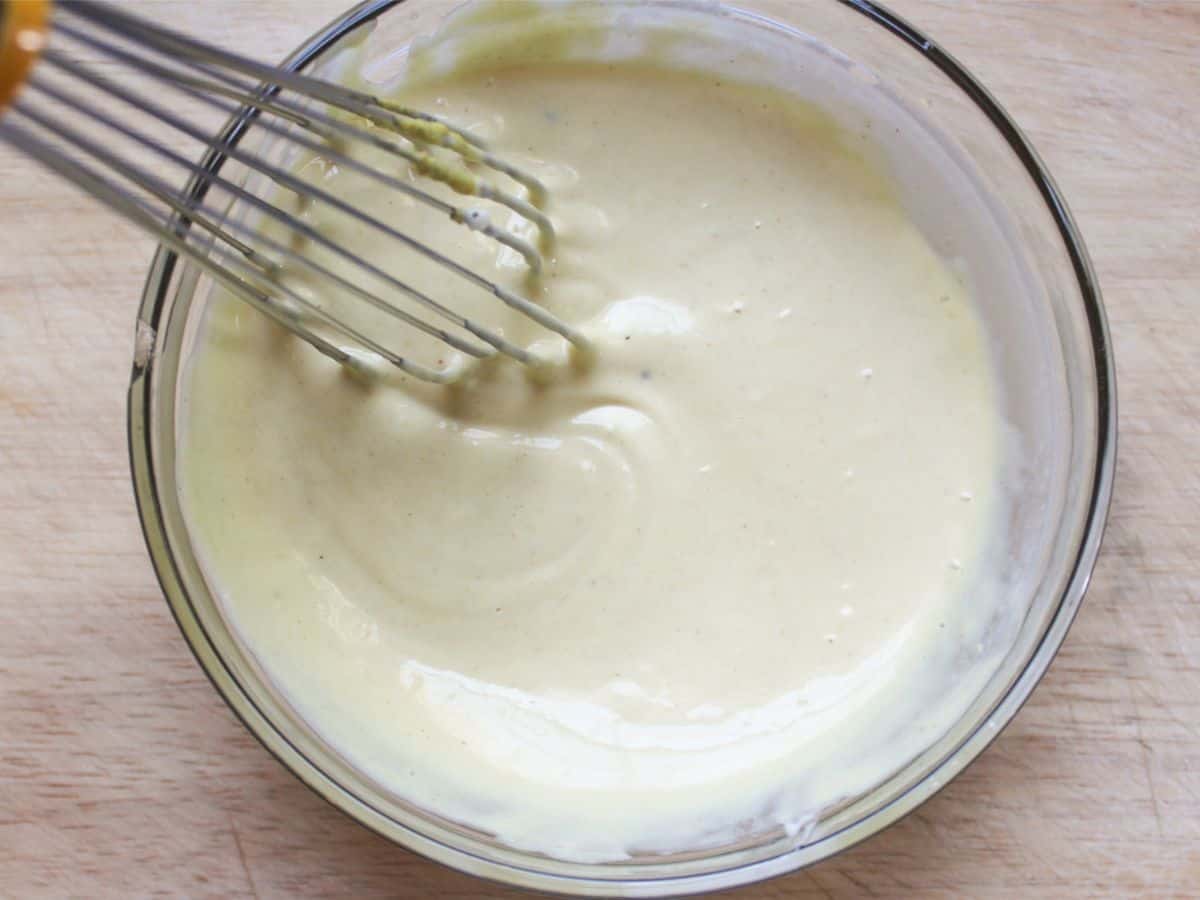 Step 4. In a large bowl, add cubed chicken, apple, green onions, drained capers and chopped walnuts. Pour the dressing over the salad.
Step 5. Mix everything well to combine. You can serve it at room temperature, but I recommend chilling it in the fridge for at least one hour.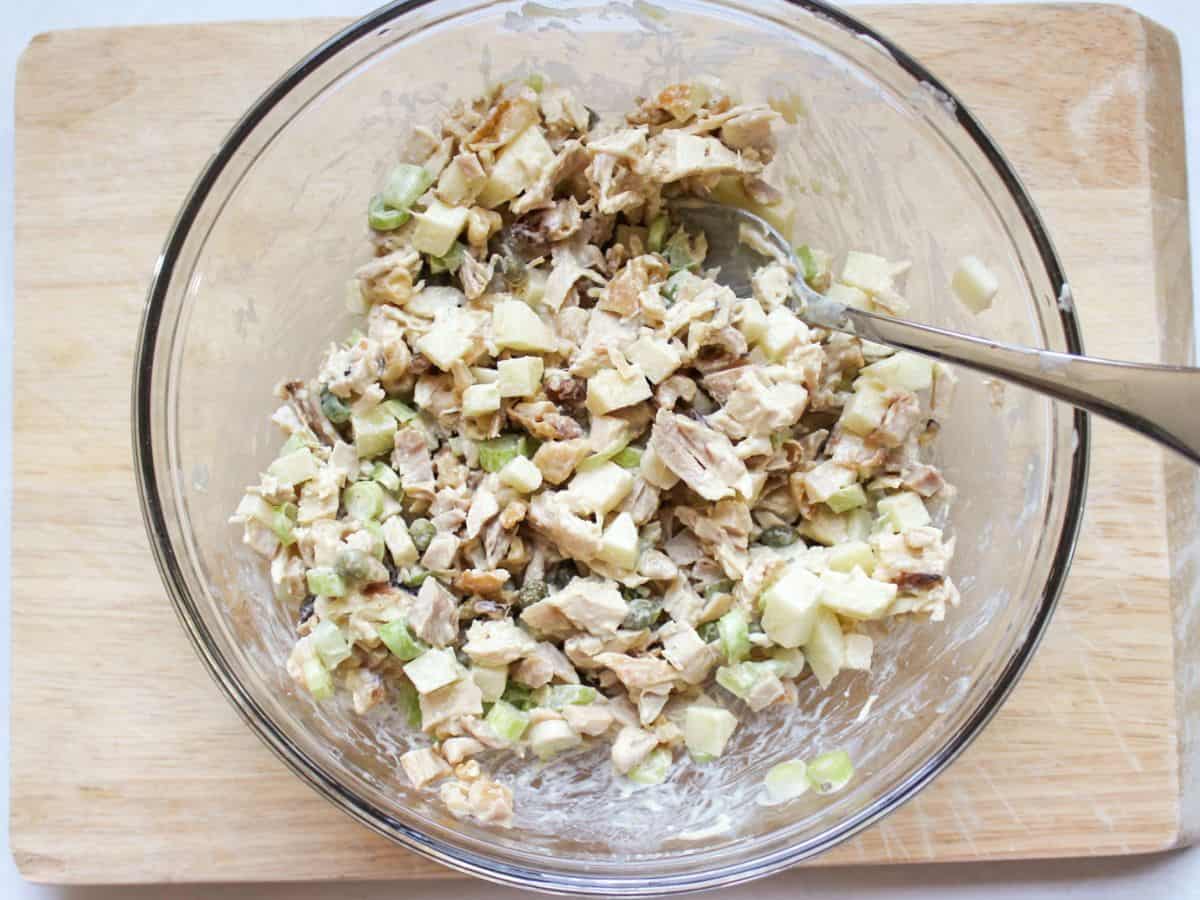 Recipe tips
Chilled: you can serve it right away, but I recommend refrigerating the salad for at least one hour before serving.
Add-ons: sweet pickle relish, garlic powder, fresh parsley, fresh dill, green olives, and seedless grapes.
Onions: most of the time, the traditional chicken salad recipe calls for red onions. This version is less savory and milder, so I advise to used chives or scallions to match the flavors.
Serving
Chicken salad without celery can be enjoyed in a variety of ways: on a bed of lettuce, between two slices of bread, a dip for crackers, or in a form of lettuce wraps.
My favorite way to enjoy this delicious salad is on a croissant. First, I slice the croissant in half and toast it slightly. Then, spread a spoonful of chicken salad on the bottom half, add some lettuce and cover it with the other half. So delicious!
It is also a perfect dish for a picnic or a potluck, as it is easy to make and pack in a cooler.
How to store chicken salad
Transfer the leftover chicken salad leftovers to an airtight container with a lid. I always prefer glass ones, but plastic is also OK. You can store it in the fridge, for up to 3-5 days if it has been made with the chicken that was cooked the same day.
As a person who tends to forget everything, I like to label the container with the date when it was made.
Remember, if the chicken salad has been sitting at room temperature for longer than 2 hours, discard it for safety reasons.
You can freeze freshly made chicken salad for up to 3 months and repurpose it in other recipes after thawing.
Other salads to try
Recipe
Chicken Salad Recipe Without Celery
Try our fresh and flavorful twist on a classic chicken salad made with apples and capers. Chicken salad without celery is still crunchy, juicy, and so easy to make.
Equipment
1 measuring cup

1 cutting board

measuring spoons

1 small bowl

1 large bowl
Ingredients
2

ea

cooked chicken breasts or 2 cups cooked shredded chicken

1

ea

green apple

2

Tablespoons

capers, drained

⅓

cup

walnuts, chopped

2

ea

green onions

½

cup

mayonnaise

2

Tablespoons

Dijon mustard

1

Tablespoon

lemon juice

1

Tablespoon

honey

⅛

teaspoon

salt and pepper

or more by taste
Instructions
Shred or cut cooked chicken into cubes. Peel and core the apple. Chop it into small cubes. Dice the green onions finely. Drain the liquid from capers.

In a large bowl, combine chicken, apple, green onions, capers and walnuts.

In a separate bowl, whisk

½ cup mayonnaise

,

2 Tablespoons Dijon mustard

,

1 Tablespoon lemon juice

,

1 Tablespoon honey

,

⅛ teaspoon salt and pepper

until smooth and creamy. Taste the dressing and adjust the seasoning if needed.

Pour the dressing over the salad and mix well until the ingredients are evenly coated. Serve it at room temperature or chill the salad before serving.
Notes
use the leftovers rotisserie chicken
apple is used as a celery substitute
chill the salad before serving
all nutrition information is only estimate and calculated using the calorie counting application.
Nutrition
Calories:
287
kcal
Carbohydrates:
8.6
g
Protein:
15
g
Fat:
21.2
g
Sodium:
423
mg
Fiber:
1.2
g
Sugar:
6.8
g